Research Centre
The World Hair Council is committed to increasing treatment results for all patients suffering hair growth disorders or hair loss and ensuring they receive optimal therapy forms.
Therefore, following the clinical establishment of Proteoglycan Follicular Atrophy as being a major underlying negative contributor, the primary focus of the research presented is focussed on Proteoglycan Follicular Atrophy, Follicular Hypo-Glycania and clinically validated and proven Proteoglycan Replacement Therapy.
Find a selection of our clinical papers here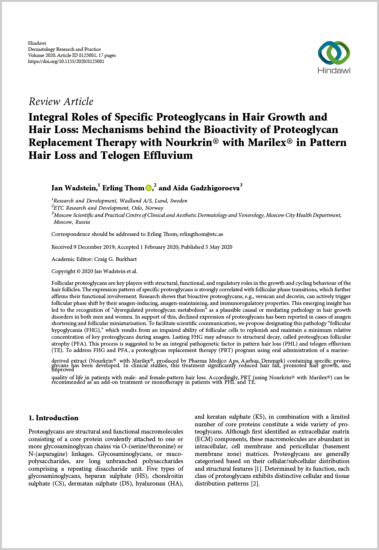 Integral Roles of Specific Proteoglycans in Hair Growth and Hair Loss: Mechanisms behind the Bioactivity of Proteoglycan Replacement Therapy in Pattern Hair Loss and Telogen Effluvium
Wadstein J, Thom E, Gadzhigoroeva A.
Dermatol Res Pract. 2020 Feb; 2020:8125081.
Conclusion: Female Pattern Hair Loss and Telogen Effluvium are the most common types of hair loss in women, yet their underlying causes are not convincingly explained. This milestone paper sheds light on a fundamental pathology that is behind several clinical presentations of hair growth disorders in women. Research shows that the ability of the affected follicular cells to synthesise proteoglycans declines considerably. This leads to a proteoglycan deficient state called Follicular Hypo-Glycania. This pathological state negatively affects multiple key metabolic pathways such as Wnt/β-catenin; thereby shortening the Anagen phase and inducing hair follicles to enter a dormant Telogen phase. Long-lasting, untreated Follicular Hypo-Glycania causes follicular miniaturisation and atrophy, a condition called Proteoglycan Follicular Atrophy. This recently recognised condition responds to Proteoglycan Replacement Therapy (using Nourkrin® with Marilex®). The authors suggest that this therapy delivers bioactive proteoglycans that can force hair follicles to enter Anagen and prolong hair growth by promoting cell proliferation. The clinical efficacy of Proteoglycan Replacement Therapy was proven through several human trials where it not only increased hair density of women with FPHL but also improved their self-esteem, psychosocial wellbeing and overall quality of life.
Contribute to our Research
If you are a researcher, scientist or other professional, that would like to have a dialogue about having your research displayed, you are welcome to write to your fellow experts on the link below.
Contact us for more information